Event:
Speaker Series - Housing in the Okanagan
Date:
Thu, Sep 28th, 2023
Time:
12:00 pm to 1:30 pm

Description: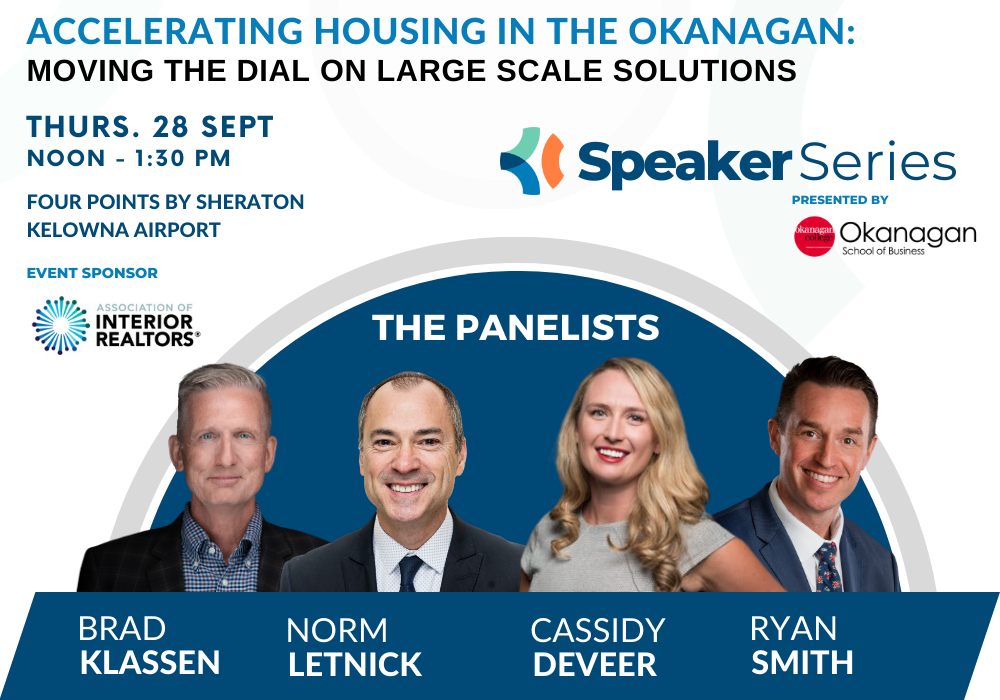 Join us on Thursday, September 28 as we hear from some local professionals n the current state of housing in this fastest growing CMA in Canada where demand is far outstripping supply.
Our three speakers will cover new options for purchasing (YeYe Housing Society/MLA Norm Letnick); Ryan Smith, Divisional Director of Planning and Development Services at City of Kelowna; Brad Klassen, Co-CEO Troika Management Corp.

This powerful combination of information, including updates on recent funding to the City of Kelowna for housing from the province will be moderated by another specialist in the local Kelowna market, Cassidy deVeer, Owner/Operator 3rd Generation Homes.

We all know there is no magic wand that any one of us can wave over the enormously complicated issue of providing adequate housing at a cost affordable to our young workforce, the swelling immigrant population, and those residents already housed, but wanting to change from rental to ownership or vice versa - and housing is extricably tied to labour issues, especially as the Okanagan explodes as a desirable centre for work and permanent residency.

Attendees will learn some new information, and have the opportunity to ask the panelists specific questions.


Registration opens at 11:30AM with the event to begin at Noon.

Purchase Deadline: Tickets MUST be purchased before NOON on Friday, September 22.

Cancellation Policy: Cancellations must be received 5 business days prior to the event to be subject for a refund.


Venue:
Four Points by Sheraton Kelowna Airport
Address:
5505 Airport Way, Kelowna
Cost:
Regular Ticket - $67.00
Member Discounted Rate - $52.00
Electronic Luncheon Voucher (Membership Benefit) - $52.00
Ticketing and/or registration:
Register here
For more info:
Ph: 250-861-3627
Email: hello@kelownachamber.org

Kelowna Chamber of Commerce