Event:
The Italian Wines of the Okanagan: Un Lavoro d'Amore
Date:
Wed, Oct 25th, 2023
Time:
6:30 pm to 9:30 pm

Description: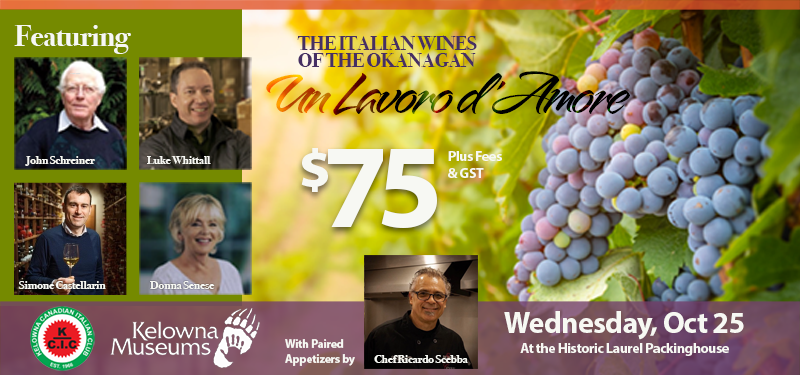 The Kelowna Canadian Italian Club and the Okanagan Wine and Orchard Museum are exploring the influences of Italy on the Okanagan Wine Industry in a very special event.
Those influences stretch back a century, to the introduction of wine grapes to the Okanagan and the beginnings of a fledgling industry.

We look back to those beginnings, but then fast forward to the present, to feature Italian styled wines from throughout the valley made from time-honoured varietals. Our guest panel: John Schreiner, Luke Whittall, Simone Castellerin and Donna Senese - will sample this exciting collection of wines curated by Luke Whittall and share their thoughts with attendees. Then (after a short break) our guests are welcome to sample for themselves. There will be tasting stations set up around the Laurel and Chef Ricardo Scebba has prepared a paired tasting menu of appetizers at each station.


Venue:
Laurel Heritage Packinghouse
Address:
1304 Ellis St, Kelowna
Cost:
$75 plus GST and fee
Ticketing and/or registration:
Tickets are available online at
this link
For more info:
Gordon Hotchkiss
Ph: 778 484 7100
Email: kcicnfi@gmail.com