Event:
Tombstone Tours: Honouring Chinese, Japanese and Indo-Canadian Communities
Date:
Sat, May 27th, 2023
Time:
1:29 pm

Description: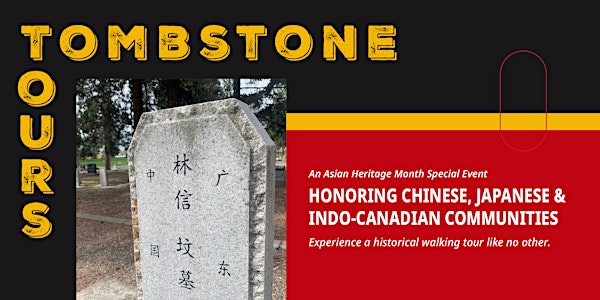 Discover the stories of the stones in this unique tour of Kelowna's past, in a beautiful natural setting.
Kelowna's largest historical site, the Pioneer Cemetery, is full of stories. Led by historians Shui Lee and Bob Hayes, you will learn about Chinese, Japanese and Indo-Canadian histories and challenges, encounter forgotten neighbourhoods and the occasional wildlife spotting in this beautiful setting.


Venue:
Kelowna Memorial Park Cemetery
Address:
1991 Bernard Ave Kelowna, Kelowna
Cost:
CA$17.31
Ticketing and/or registration:
https://www.eventbrite.com/e/tombstone-tours-honouring-chinese-japanese-and-indo-canadian-communities-tickets-625345484177
For more info: