Event:
Wine & Laughs at Dakoda's Comedy Lounge presented by Haywire Organic Winery
Date:
Sat, May 27th, 2023
Time:
6:30 pm to 8:00 pm

Description: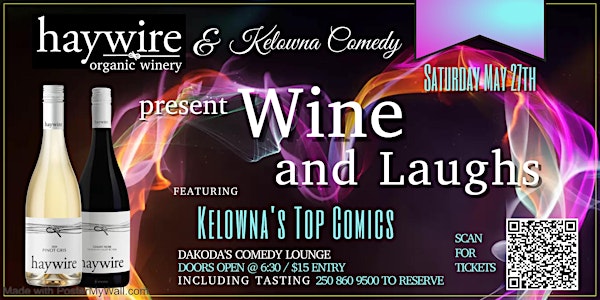 Wine from Haywire Organic Winery and top Kelowna comedians collide in a hilarious summer event at Dakoda's Comedy Lounge.
Join us for a night of hilarity and delicious wine as we bring together the best of both worlds at Dakoda's Comedy Lounge! Our wine tasting comedy show will feature the exquisite wines of Haywire Organic Winery, paired perfectly with the comedic stylings of Kelowna's top comedians.

Sip on a glass of Haywire's finest while laughing out loud to the side-splitting performances of our talented comedians. Whether you're a wine aficionado or a comedy lover, this event is sure to tickle your taste buds and your funny bone.

Experience an unforgettable evening of wine and laughter with friends, family, or colleagues at Dakoda's Comedy Lounge. Get ready to sip, savor, and laugh the night away with us!


Venue:
Dakodas Comedy Lounge
Address:
1574 Harvey Ave, Kelowna
Cost:
$15.00 + fees
Ticketing and/or registration:
Tickets are available online at
Eventbrite
For more info: