Event:
Hitz Boutique presents the Sick & Twisted Comedy Invitational
Date:
Fri, May 26th, 2023
Time:
8:30 pm to 10:00 pm

Description: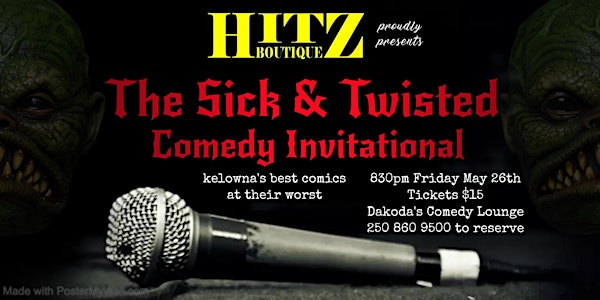 Hitz Boutique's Sick & Twisted Comedy Invitational: pushing limits of decency, no joke too gruesome. Get tickets now!
Get ready to laugh until you cry, because Hitz Boutique is bringing the Sick & Twisted Comedy Invitational to Dakoda's! The most hilarious and twisted comedians from Kelowna Comedy will be taking the stage, pushing the limits of what's considered "acceptable" with their monstrous jokes and twisted minds.

This is an all-out battle of the wits, designed to make you squirm, shriek, and cackle with delight all at once. You'll be in stitches as you watch these comedians compete for the title of "Sickest and Twisted," delivering jokes that are so outrageous, you won't be able to catch your breath.

Now, we have to warn you - this event is not for the faint of heart. If you're easily offended by dark humor, foul language, or taboo subjects, then you might want to sit this one out. But, if you're ready to push the limits of your own sanity and have a night you'll never forget, then grab your tickets now for the Sick & Twisted Comedy Invitational!

And a big shoutout to Hitz Boutique for making this amazing event possible! If you want to keep it old school and look fabulous doing it, then Hitz Boutique is the place to be. Don't miss out on the fun - get your tickets today!


Venue:
Dakodas Comedy Lounge
Address:
1574 Harvey Ave, Kelowna
Cost:
$15.00 + fees
Ticketing and/or registration:
Tickets are available online at
Metro Hub
For more info: