Event:
Comedy for a Cause for OSIF presented by Sunbelt Rentals
Date:
Fri, Apr 28th, 2023
Time:
6:30 pm to 8:00 pm

Description: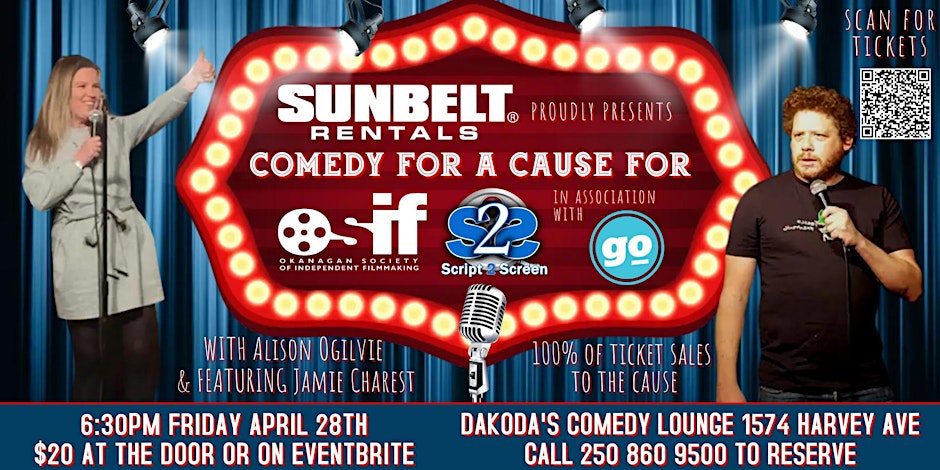 Sunbelt Rentals is excited to present Comedy for a Cause for the Okanagan Society of Independent Filmmaking. 100% toward the cause.
Hey Film Lovers and Comedy Fans! Help us raise some funds for local film makers with a huge night of laughs at Dakoda's Comedy Lounge presented by Sunbelt Rentals. 100% of ticket sales from this show will go toward helping local film makers bring their scripts to life through the Script to Screen program.

This show will feature several of Kelowna Comedy's top comics including your host, Alison Ogilvie. Alison Ogilvie is a comedian and storyteller who is proud to hail from bonny Scotland. With a warm Scottish brogue, Ogilvie knows how to leave an audience in stitches with her unique take on family life. In 2016, she made it into the semi-finals of Vancouver's Yuk Off competition, and then went on to win B.C.'s funniest female in 2017. She has since been transplanted to Kelowna, where she has been winning over crowds with her outragious wit.

Your feature act is Jamie Charest. Jamie has performed at every major comedy club in Western Canada. His self observational stand-up comedy has been featured on CBC Radio. He has shared the stage with Tom Green, Tom Segura and Steve O from Jackass.

Thanks so much to Sunbelt Rentals for their generous sponsorship of this event. Please check them out. They really have everything you need. And an additional thanks to Gonzo Okanagan for their support of the arts and this special Script to Screen progam.


Venue:
Dakodas Comedy Lounge
Address:
1574 Harvey Ave, Kelowna
Cost:
$20 at the door - Reservation is advised
Ticketing and/or registration:
Tickets are available online at
Eventbrite
For more info:
Please call 250-860-9500 to reserve