Event:
Comedy for a Cause for Lungs for Tawnee presentedby Cooper Medical Supplies
Date:
Fri, Apr 7th, 2023
Time:
6:30 pm to 8:00 pm

Description: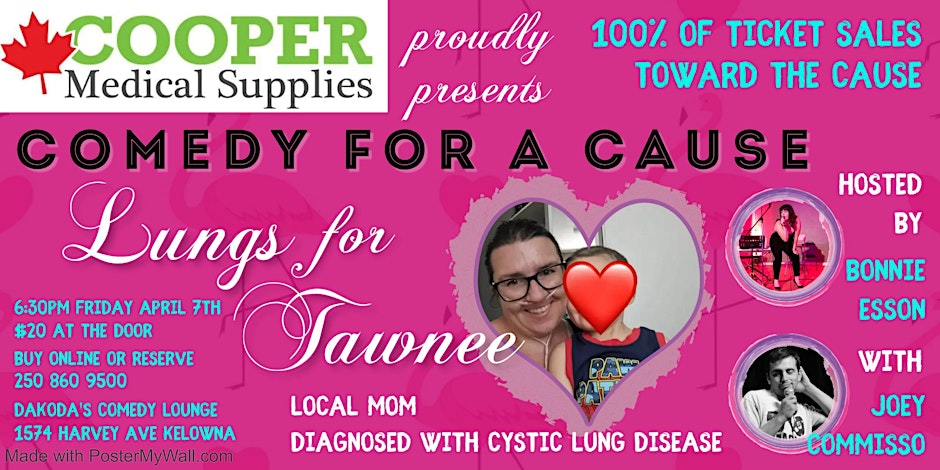 Cooper Medical Supplies is proud to present Comedy for a Cause for Lungs for Tawnee. 100% of ticket sales will go toward this urgent cause.
Come out for a huge night of laughs with 100% of ticket sales going toward Lungs for Tawnee.

This hilarious evening of comedy will be hosted by the always entertaining Bonnie Esson, with a special feature performance from Joey Commisso. Bonnie Esson has razor sharp wit combined with a self deprecating style that endears her to any crowd. Recently back from peforming in BC's Funniest New Female Comedy Contest at Vancouver's House of Comedy, Bonnie is ready to perform for the hometown crowd. Bonnie's clever and hilarious insights into dating and love and her propensity to "overshare" make her a must see. With a unique perspective and off-beat style, Joey Commisso is a great comedy experience for people from all walks of life. Covering a wide range of topics, Joey has performed comedy all over Canada, and the U.S.A and has been part of the Comedy scene in Europe performing in Paris. He's been nominated for a Vancouver comedy award and performed at the JFL Vancouver festival and Standup NBC.

Please learn about our important cause.

Tawnee Brunet is a 39 year old mom of a three year old little boy in Kelowna/Lake Country.She was recently diagnosed with a severe cystic lung disease calls LAM. Since her diagnosis in March 2022 she had to leave her job to look after her health. She requires a double lung transplant asap. A requirement for new lungs is to show my transplant team that she has the financial means to remain in the Vancouver area with my care taker(s) for 3-6 months post op. If she doesn't have the financial means, she will not be placed on the list. 100% of ticket sales will go toward helping Tawnee with this ordeal.

Thank you to Cooper Medical Supply for their generous sponsorship of this amazing show. Please support them for helping Tawnee and their continued support of Kelowna Comedy.


Venue:
Dakodas Comedy Lounge
Address:
1574 Harvey Ave, Kelowna
Cost:
$20 at the door - Reservation is advised
Ticketing and/or registration:
Tickets are available online at
Eventbrite
For more info:
Please call (250) 766-4534