Event:
Top 3 Comedy Night presented by Turtle Tanks & Haven Sleep Co
Date:
Sat, Mar 25th, 2023
Time:
8:30 pm to 10:00 pm

Description: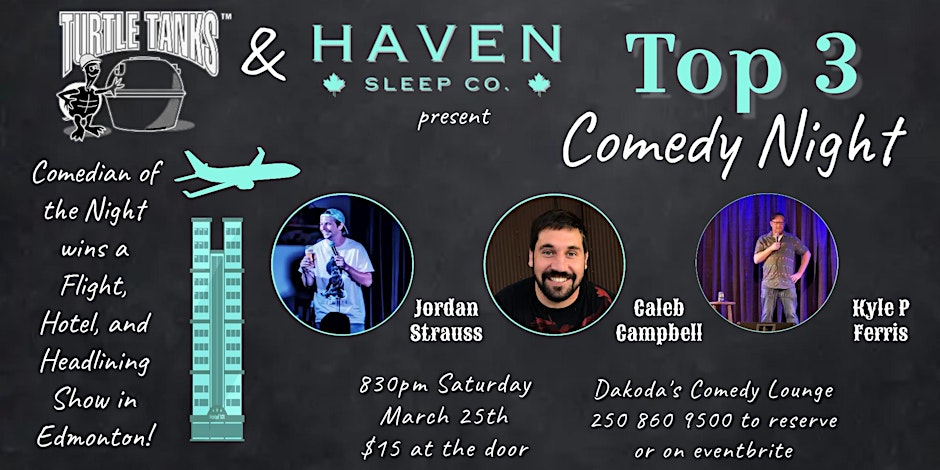 Come out for a huge night of laughs with Kelowna Comedy's Top 3 presented by Haven Sleep Co & Turtle Tanks!
Turtle Tanks & Haven Sleep Co is proud to present Top 3. You know and love all these comedians and they love each other, but tonight, they are going to war!

This amazing show features three headlining comedians: Caleb Campbell, podcaster and headlining comic, and Kyle Ferris, as seen on Comedy Shocker, and Jordan Strauss, Calgary Funnyfest Winner.

You, the audience, will decide on your favourite comedian of the night. The winner will recieve a flight, hotel, and headlining show in Edmonton in the next few months. Come out for this exciting night of comedy.

Thanks so much to Turtle Tanks & Haven Sleep Co for their generous support of live comedy. Please check them out when you need a new mattress or a new septic tank.


Venue:
Dakodas Comedy Lounge
Address:
1574 Harvey Ave, Kelowna
Cost:
$15 at the door - Reservation is advised
Ticketing and/or registration:
Tickets are available online at
Eventbrite
For more info:
Please call 250-860-9500 to reserve