Event:
Comedy for a Cause for Local Ukrainian Refugee Kids' Fund by Ziola Designs
Date:
Fri, Mar 24th, 2023
Time:
6:30 pm to 8:00 pm

Description: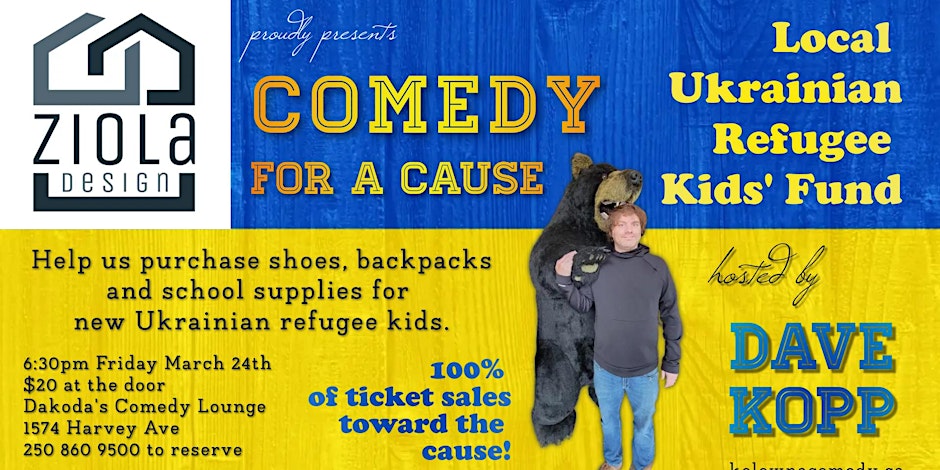 Come out for some laughs for a great cause presented by Ziola Designs. 100% of ticket sales will go to help local Ukrainian refugee kids.
Ziola Designs is excited to present an evening of laughs for a wonderful cause at Dakoda's Comedy Lounge at 6:30pm on Friday, March 24th. This showcase style show will be hosted by Dave Kopp (JFL Northwest, CBC radio) and will feature five of Kelowna Comedy's top comics.

100% of ticket sales from this event will be donated to help pay for school supplies, sports enrollment fees, and clothing for local Ukrainian refugee children who are new to the Okanagan. These kids really need some help getting adjusted to their new home and this a great way to help.

Thanks so much to Ziola Design for their generous sponsorship of this event. Their support is what makes it possible. Please support them for supporting us.


Venue:
Dakodas Comedy Lounge
Address:
1574 Harvey Ave, Kelowna
Cost:
$20 at the door - Reservation is advised
Ticketing and/or registration:
Tickets are available online at
Eventbrite
For more info:
Please call 250-860-9500 to reserve