Event:
Urban Kiz with Leah Frei
Date:
Fri, Mar 31st, 2023 to Sat, Apr 1st, 2023
Time:
7:00 pm to 11:00 pm

Description: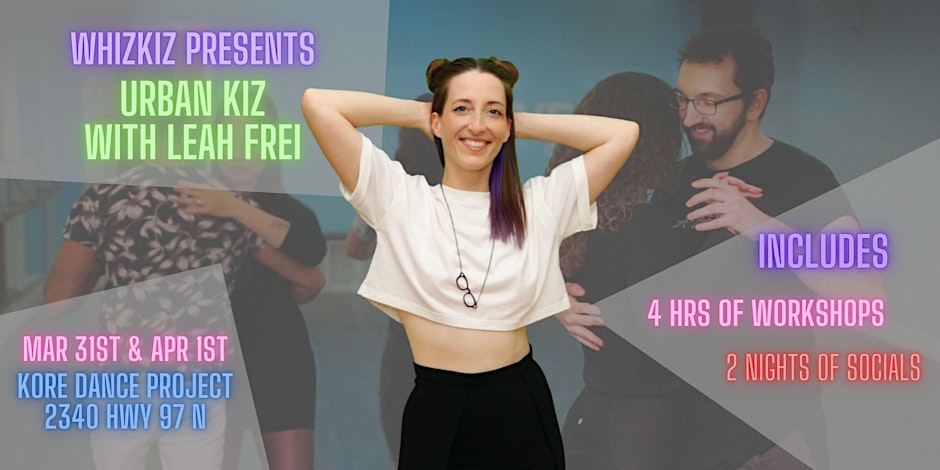 Two days of Urban Kiz Workshops with a two Kizomba and Urban Kiz Social Dances.
For the first time ever, get ready for a weekend event with Saskatoon phenomenon Leah Frei! The creator behind the Saskatoon Kizomba community Leah can both lead and follow and is ready to share a specialized Urban Kiz bootcamp with everyone in preparation for the Victoria Kizomba Festival which she will also be attending. The event includes a Friday night workshop and social plus Saturday workshops and evening social! Don't miss it!

***TICKET PRICES WILL INCREASE MARCH 1ST***

INSTRUCTORS:

Leah Frei hails from Saskatoon Canada and is one of the driving factors in Kizomba and Urban Kiz in Canada. The creator of SasKiz Leah has a fascination with the limitless creativity and musical interpretation possible in UrbanKiz. She has traveled all over North America to chase this passion and trained with many of the best artists from all over the world.

Passionate about providing detailed and insightful instruction, her intimate understanding of both the lead and follow role provides an environment where all participants can learn and grow. Leah's playful and gracious style is guaranteed to bring a smile to your face!


Venue:
Kore Dance Project
Address:
2340 Highway 97 North, Kelowna
Cost:
$15.00 - $60.00
Ticketing and/or registration:
Tickets are available online at
Eventbrite
For more info: