Event:
Big Slice of Comedy
Date:
Fri, Mar 31st, 2023
Time:
8:30 pm

Description: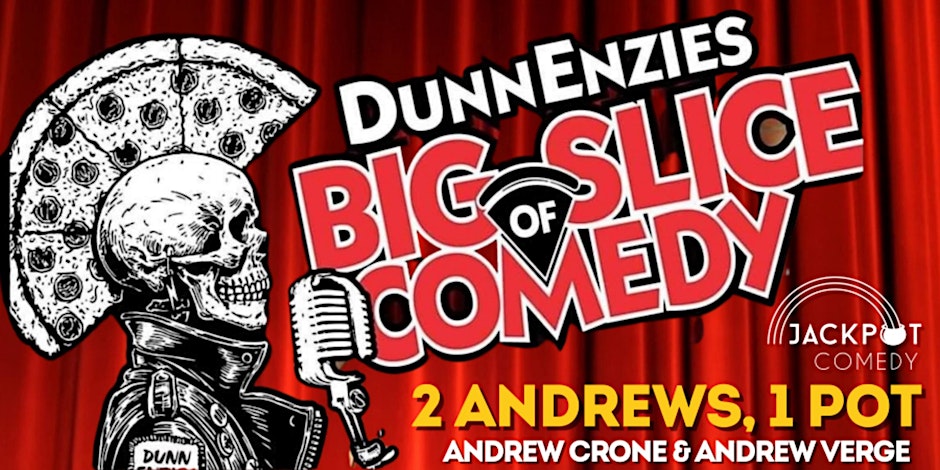 Join us for some laughs, beer, and food at DunnEnzies in the Lower Mission at BIG SLICE OF COMEDY!
Every month DunnEnzies has a BIG SLICE OF COMEDY for you. Jackpot Comedy is bringing you the biggest acts in the country at the coolest venue in the Mission.

This month, Jackpot Comedy is thrilled to put in this crazy event sponsored by PTSDonline.ca.

What happens when 2 comics eat 1000mg of edibles...?

Andrew Crone and Andrew Verge are up for the challenge! See 2 Andrews and 1 GIANT POT COOKIE at this very unique comedy show... who will destroy and who will be destroyed?!

ANDREW CRONE: Crone was named Okanagan's hardest comedy act to follow for good reason. His cutting comedic wit is unparalleled and unrelenting. Despite having to contend with anxiety and depression, Andrew finds his happy place on stage where he is most comfortable being ruthless and ridiculous together with the crowd and his material. He is truly a fan favourite with bold original jokes that will leave you breathless. Crone has toured his way across Western Canada, alongside some of the biggest touring acts in the country. He has performed at Just For Laughs Northwest, the Grindstone Comedy Festival, and the Okanagan Comedy Festival. And is a 6 time Kelowna Comedy award winner! Audiences always leave wanting more of Andrew Crone's audacious and unrepentant comedy. "Watching Andrew Crone is like watching Canadian geese fly in a V formation" - the chef at DunnEnzies. "Crone loves to talk about sex and drugs but is f*ckin' funny" - a famous comedian

ANDREW VERGE: Verge is a comedian from Summerland BC who has performed comedy all across North America. In addition to touring, he loves dogs, the outdoors and being silly and brings those elements to the stage. He isn't active on social media so you'll have to give him your email if you want to see him again or just follow him home.

Post Traumatic Strain Distribution Ptsdonline.ca is a website that was established to provide quality cannabis and psilocybin treatment with compassion and convenience. Their mission is to provide an alternative, natural way of healing without using industrialized pharmaceuticals. Founded by Veteran Danny Buch, he saw there was a need to help his PTSD after his service and that he could pass that onto others. All products to Veterans, Serving CAF Members, Paramedics, Fire Fighters, Police, Nurses, Correction Officers and all other Emergency with a 15% discount. Products are available to all others at fantastic prices. Check out the website for all your cannabis and psilocybin needs.https://ptsdonline.ca/Products are lab tested and quality controlled. Get your raffle ticket at the show for a gift pack!

Doors are at 8pm for ticket holders​ food and drink service continues through entire show.

** All seating is community table seating and first come first served, no reservations**

Doors open at 8:00pm and the Comedy Show will kick-off at 8:30pm. If you would like to be seated with a group that purchased tickets separately please give us a call.

+1 236-420-5722

Mature Content

Get ready to laugh your faces off!


Venue:
DunnEnzies Pizza Mission
Address:
4638 Lakeshore Road, Kelowna
Cost:
$15.00 - $25.00 + fees
Ticketing and/or registration:
Tickets are available online at
Eventbrite
For more info:
Ph: 250-763-2420
Email: dunnenzies@shaw.ca

DunnEnzies Pizza Mission