Event:
NYE at KCC with Erica Sigurdson
Date:
Sat, Dec 31st, 2022
Time:
6:00 pm to 12:00 am

Description: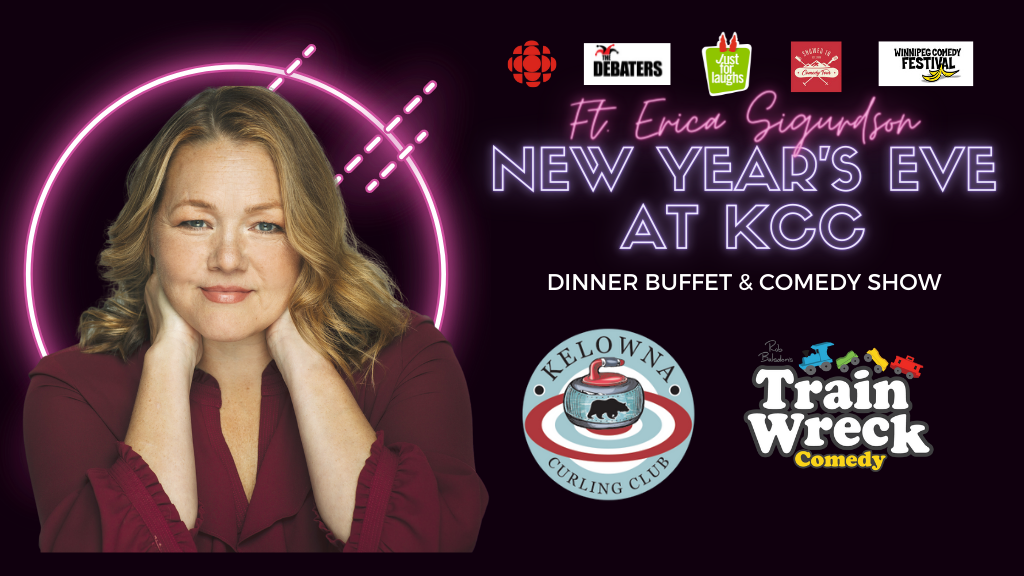 Train Wreck Comedy will return to the Kelowna Curling Club this New Year's Eve with another fabulous dinner buffet and comedy show, featuring one of the top comedians working today, Erica Sigurdson.
Doors will open at 5:30 PM for this special event with a dinner buffet including carved roast beef, chicken and a huge selection of hot and cold veggies, salads and dessert starting at 7:00 PM, followed by comedy and champagne at midnight!

Erica Sigurdson is a two-time Leo Award winner for comedy writing and an award-winning standup comedian. With over twenty years of stage experience and numerous television appearances – Erica has become an in-demand performer at both festivals and private events.

Erica's resume includes over fifty appearances on the smash hit 'The Debaters' on CBC Radio, live appearances across Canada as well as The Philippines, Thailand, Singapore and Iceland and Afghanistan, where she literally had to leave the stage after coming under fire from rocket attacks from the Taliban.

In addition to these professional accomplishments, Erica is an advocate for Type 1 Diabetes awareness, having been diagnosed herself at the age of 10.

She believes challenges in life are best handled with a sense of humour and talks about the power of humour in her keynote presentation 'Poking Fun; Thriving With Type 1 Diabetes'.


Venue:
KELOWNA CURLING CLUB
Address:
551 Recreation Ave, Kelowna
Cost:
$90 – Includes all Fees, Taxes and Gratuity
Ticketing and/or registration:
Tickets are available online at
Train Wreck Comedy
For more info:
Ph: 250-762-3112