Event:
Postcard Project & Studio Sale // Annual Members' Exhibition
Date:
Fri, Jul 8th, 2022 to Sat, Aug 6th, 2022
Time:
11:00 am to 12:00 am

Description: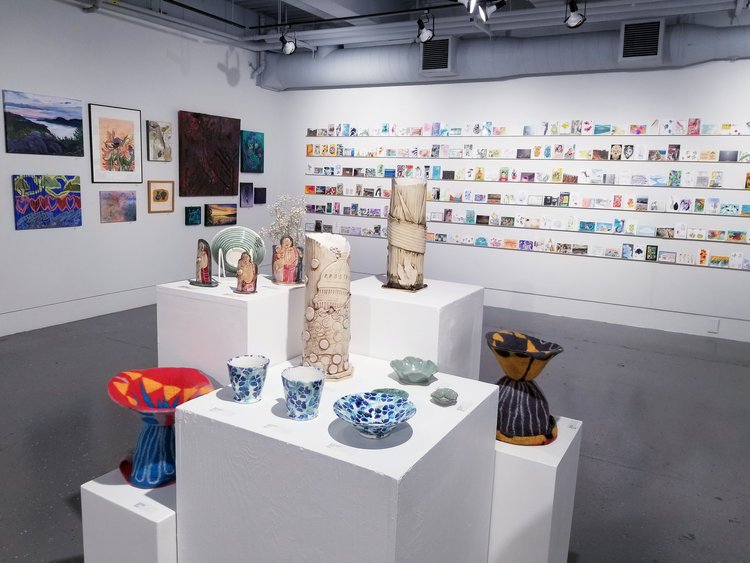 Once again the Alternator is celebrating our diverse creative community through our Annual Members' Exhibition, The Postcard Project & Studio Sale. To commemorate our 33rd in the Kelowna arts community we invited our members to fill the walls of the gallery salon-style with original artworks and postcards.
The Postcard Project & Studio Sale is an opportunity for local artists to exhibit their work in the Alternator's professional gallery space, creating a grand mosaic that showcased both the people involved with the gallery and the work they produce. This annual members' exhibition doubles as an exhibition and sale where visitors could take home (or gift!) a part of the Okanagan's rich arts community. Artists will take home 75% of sales while the remaining 25% supports the Alternator's programming.

Similar to last year, we invited 33 Alternator members (one for each year of our existence!) to create 10 unique postcards in any visual medium to be sold at $10 each. As part of the Studio Sale, gallery visitors will be sure to find something that speaks to them. With over 50 participating artists, and works ranging from paintings to ceramics, lino prints to photographs, there is something here for everyone. All artworks in the exhibition are unique originals and available for sale with prices ranging as low as $10.00 and up. People are encouraged to visit early, however, as works in the exhibition are sold, they will be removed from the wall and taken home with their new owners.


Venue:
Alternator Centre for Contemporary Art
Address:
421 Cawston Ave, Unit 103, Kelowna
Cost:
n/a
For more info: