Event:
Summerhill Pyramid Winery presents Wine & Laughs at Dakoda's Comedy Lounge
Date:
Fri, Nov 26th, 2021
Time:
6:30 pm to 8:00 pm

Description: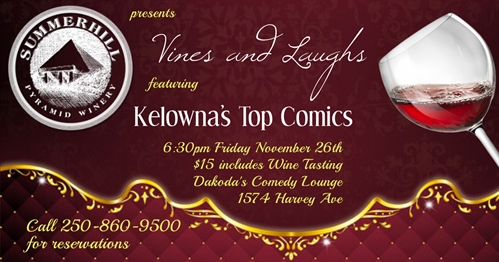 Summerhill Pyramid Winery is proud to present Wine and Laughs! Come taste Summerhill's amazing wine while enjoying some of Kelowna Comedy's top local comedians.
This special show will feature seven of the funniest comedians in the city many of whom have been featured on Just For Laughs Northwest. This show will include at tasting of a white and red wine! This is our most popular show, so call to make a reservation.


Venue:
Dakoda's Comedy Lounge
Address:
1574 Harvey Ave, Kelowna
Cost:
For more info: