Event:
Canadian Undergraduate Technology Conference (CUTC) 2021
Date:
Sat, Jul 24th, 2021
Time:
7:00 am to 00:00:01

Description: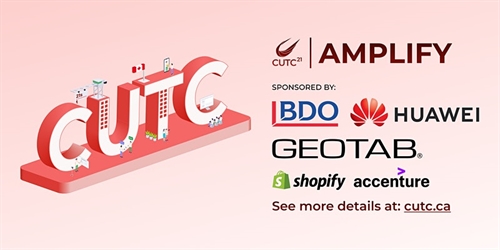 Drop in to our FREE two-day conference and hear from industry leaders, participate in workshops, build your resume, and more.
At the CUTC we're amped to help students find their niche in a growing sea of opportunities. We're focusing on tech for everyone - no matter your background, location, program, or interests. This year: Featuring speakers from top companies like Facebook, Apple, Shopify and RBC Hear from CEOs, founders, recruiters, engineers, product managers, and more Sponsored by awesome companies like Geotab, Shopify, Accenture and Flipp Challenges and workshops are on the way! More information coming soon! Keep up to date with us on Facebook, Instagram and Twitter @cutc2021, find us on LinkedIn, or check out our website at www.cutc.ca. Founded in 1999 by the CUTC Foundation, the Canadian Undergraduate Technology Conference is Canada's longest-running student-led technology conference of its kind. With over two decades worth of history, we've brought together students like you from across the world - creators, designers, engineers, entrepreneurs, budding scientists and young visionaries - to change the way you see technology.


Address:
Online Event, Vernon

Cost:
N/A
For more info: