Event:
Kelowna Sunset Cruise with Musical Guest Jon Bos
Date:
Thu, Aug 6th, 2020
Time:
5:30 pm to 7:30 pm

Description: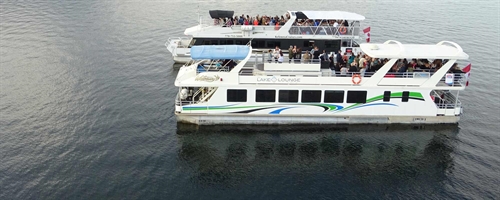 Come and truly experience Okanagan Lake on one of our popular dinner cruises with local musician Jon Bos, during the months of July and August.
This two-hour Sunset Cruise will tour you around City Park, under the William R. Bennett Bridge, around the south side of the bridge with views of spectacular homes and vineyards, and back through the bridge for a picture perfect shot of the cityscape illuminated by the glow of Kelowna's lights. A Sunset Cruise on the Lake is a great change to the standard date night for locals, or an entertainment must-do for out-of-town tourists! Social distancing protocols are in place. Prices range from $55-80 depending on whether dinner is purchased. Click the link above to register or for more info.


Venue:
Kelowna Cruises
Address:
238 Queensway Ave, Kelowna
Cost:
$55-80
For more info:
www.kelownacruises.com/the-lake-lounge/cruises/