Event:
Virtual Lunchbox Lectures: Cultural Food for Thought
Date:
Tue, Aug 4th, 2020
Time:
12:00 pm to 1:00 pm

Description: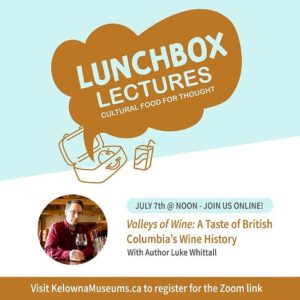 Chew on this! A virtual lecture series, coming to you wherever you like to eat your lunch.
Kelowna Museums, Kelowna Art Gallery and Sncəwips Heritage Museum have partnered up to bring you the best guest speakers for all things Okanagan. From social and natural history, to the artists easel, and traditional syilx culture, it's a lunchtime must. Zoom in to explore the Okanagan with us.

Advance registration required. Click the links below to register (more weekly topics to be announced).


Address:
Virtual Event, Kelowna

Cost:
By donation
For more info:
(250) 868-4836