Event:
Tanya Evanson Performance-Writing Workshop
Date:
Sat, Mar 28th, 2020
Time:
1:00 pm to 3:30 pm

Description: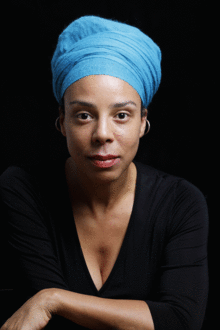 Tanya Evanson will lead participants in a FREE writing workshop that will develop beginner, intermediate, and core skills in writing for page and stage. All skill levels, members of the public, and students welcome!
The space is wheelchair accessible and there are gendered, multi-stall washrooms on each floor.
ABOUT TANYA EVANSON:
Born and based in Tiohtià:ke/Montreal, Tanya Evanson is an Antiguan-Canadian poet, performer, producer, arts educator and director of The Banff Centre Spoken Word residency.
Over a 20-year career in spoken word, she has performed at festivals in over a dozen countries; published six artist books, four studio albums and three videopoems including the award-winning Almost Forgot my Bones. In 2013, she was Poet of Honour at the Canadian Festival of Spoken Word and received the Golden Beret Award for her contribution to the genre.
"Bothism" (2017 Ekstasis Editions) is her first published poetry collection and is performed as a live videopoem. Her sophomore collection "Nouveau Griot" (2018 Frontenac House), gathers the texts from four studio albums. She has published recently in Arc Poetry, WSQ-Feminist Press, Making Room: Forty Years of Room Magazine (Caitlin Press) and Resist Much/Obey Little (Dispatches Editions). She has work forthcoming in Fiddlehead and Changing Face of Canlit (Guernica Editions), and is at work on a bilingual novella. She moonlights as a whirling dervish.
We respectfully acknowledge that we live and work in the unceded, ancestral territory of the Syilx people. It is a privilege to be able to put on events as uninvited guests on their land.


Venue:
UBC Okanagan
Address:
3333 University Way, Kelowna
Cost:
Free
For more info: