Event:
DJ Shado
Date:
Fri, Dec 6th, 2019
Time:
10:00 pm to 2:00 am

Description: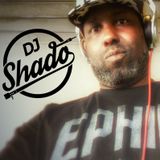 an aspiring DJ growing up in Winnipeg Manitoba I used to watch DJ's like the late DJ FRESH and DJ Bunny just to name a few.
Throughout the years I've made my way across the country to BC and Alberta through ways of Kamloops, Kelowna and Calgary. As a member of the Alliance Soundcrew with DJ's Maniac Maurice, DJ Kav and one Western Canada's finest emcee's his cousin Jack Mills (formerly Chatta Box from the Alliance Soundcrew) I've had the huge pleasure of opening for acts such as COOLIO, SNOOP DOGG, BLU CANTREL, MAESTRO, FRESH WES, DJ KOOL and JULLY BLACK (at the Odeon in Saskatoon) and that's just to name a few, I've also worked alongside some of the best International DJ's like DJ JAM (Snoop Dogg's DJ), DJ M1 from Paris, DJ Knowledj from Vegas, DJ Spider from Vegas, DJ Pup Dawg from LA, and that's just a little taste of the history of DJ Shado. In 2011 as a Sureshotradio.com DJ, it was a huge pleasure to work alongside some of the
greatest Canadian DJ's like the late DJ FRESH, DJ 4OUR 5IVE (Lil Wayne's DJ), LOVE JONES........and the list goes on.


Venue:
Doc Willoughby's Downtown Pub
Address:
353 Bernard Avenue, Kelowna
Cost:
cover charge
For more info:
Call 250.868.8288

Doc Willoughby's Downtown Pub