Event:
2020 Vision Workshop: Make This Your Decade Of The Century
Date:
Sat, Dec 7th, 2019
Time:
9:00 am to 5:00 pm

Description: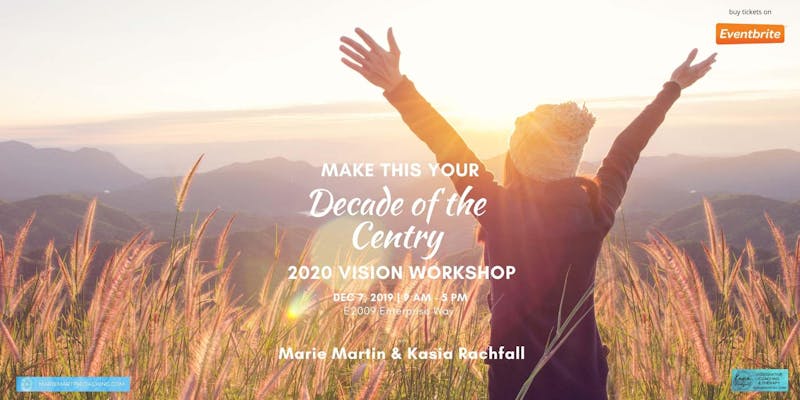 Make 2020 the decade of your century with this innovative Holofractographic Vision Workshop
We are at the edge of a new decade - vision is everything. Set your powerful intentions and use the latest in unified quantum field theories to co-create with the Holographic Universal Mind.

This workshop is one of a kind - you will never have experienced this before. We combine the many skills and talents of Kasia Rachfall and Marie Martin to co-create with you. We tap into the works of Metatron's Code, Nassim Haramein's Resonance Academy, Integrative Transformational Coaching and Energy Kinesiology to set your intentions in the unified field.

You won't know what this means until you experience it because this is a co-creation of Marie and Kasia's knowledge, experience and combined studies of the Quantum Field Theory and Psychology, Conversational Intelligence, HeartMath technology, and NLP.



Marie Martin is a coach and counselor working with people who have a strong desire to serve others and want to make a big impact in the world. Her professional background includes: Bachelor's Degree in Metaphysical Science, Master NLP (Neuro-Linguistic Programming) Practitioner & Certified Communications Specialist, Certified Hypnosis Practitioner , Certified Regression Healing Hypnosis with the Quantum Healing Centre UK, Conversational Intelligence® for Coaches Enhanced Skill Practitioner, HeartMath Facilitator, Certified Ho'oponopono Practitioner, CBT – Cognitive Behaviour Therapy and Counselling Certificate, Divine BluePrint Numerology.

Kasia Rachfall is an integrative transformation coach and practitioner working with spiritual seekers who desire to feel fulfilled personally as they create big impact in the world. Her professional background includes: Speaker, Author, Podcaster, Masters Degree in Transpersonal Psychology, Bachelor of Business Administration and Communications, Certified Professional Life Coach, Trainer of Neuro-Linguistic Programming, Master Practitioner of Time Line Therapy™ (a.k.a. Mental Emotional Release Techniques™) and Hypnosis, Practitioner of Touch For Health™ Energy Kinesiology and Stress Indicator Point Systems™ (SIPS) and Body Alignment Proprioception™ (BAP), Certified Advanced Practitioner of Divine Numerology, Reader and Teacher of Akashic Records, Practitioner of Reiki, Intuitive Healer and Artist.


Venue:
Odettes Wellness Centre
Address:
2009 E Enterprise Way, Kelowna, British Columbia V1Y 9S9, Kelowna, V1Y 9S9
Cost:
$100 to 1st December Early Bird - $120 Full Price
Ticketing and/or registration:
https://www.eventbrite.ca/e/2020-vision-workshop-make-this-your-decade-of-the-century-tickets-79913149381?aff=efbevent&fbclid=IwAR1w6hzOs-8arDiL5eCgy6DjVez202iuquIFNi5BgeiILv79Val4_4YfW24
For more info:
mariemartincoaching@gmail.com
www.eventbrite.ca/e/2020-vision-workshop-make-this-your-decade-of-the-century-tickets-79913149381?aff=efbevent&f