Event:
BRNB Release Prohibition Dinner
Date:
Thu, Mar 30th, 2017
Time:
7:00 pm

Description: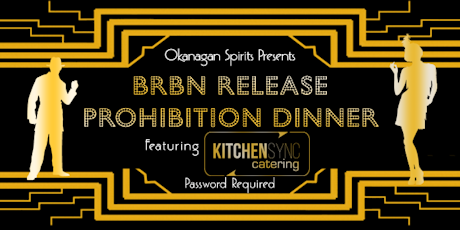 Celebrate our Bourbon-style whisky release. Bring your flapper dress and your fedora and join us for a four course cocktail-paired dinner by chef Ben Pallett of KitchenSync Catering and 1930s themed cocktails by Okanagan Spirits.
We have a special evening waiting for you as our Kelowna distillery turns into a speakeasy to host a prohibition dinner you would find Al Capone at!

This four course dinner, part of our Dine in Good Spirits series, will feature delicious 1930s inspired cocktails paired with an exquisite four course meal designed by executive chef Ben Pallett of Kitchen Sync Catering.

Bring your flapper dresses and your suits and be taken back to the 1930s as we theme this dinner from top-to-toe in prohibition style.

Tickets $99. Doors open 7pm. Limited seating due to capacity.

Don't forget your secret code to enter, check our BRBN page on the 30th to gain access!


Venue:
Okanagan Spirits Craft Distillery
Address:
267 Bernard Avenue, Kelowna, V1Y 6N2
Cost:
$99. Limited Seating
Ticketing and/or registration:
Tickets available on Eventbrite
For more info:
778-484-5174 kelowna@okanaganspirits.com

Okanagan Spirits Craft Distillery
www.eventbrite.com/e/brbn-whisky-launch-prohibition-dinner-tickets-32512874884